Foreword for Richard Njus's New Book: Touching Hearts, Educating Minds
10 September 2009
20,886
One Comment
Touching Hearts, Educating Minds a book by Richard Njus was recently released. I wrote the Foreword for the book and with permission, I am posting it here.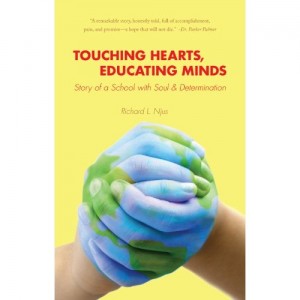 Foreword
American education is facing many challenges, two of which are so serious that I call crises. The first crisis is the loss of purpose and the other the loss of faith. Richard Njus has written a book to address both. With a passionate account of his personal journey to create a school, he tells us the direction and restores our faith.
In his book The End of Education: Redefining the Value of School, the late cultural critic and New York University professor Neil Postman points out the importance of purpose and refers to it as "god," not the "God," but the reason for existence, the purpose for parents to send their children to school, the reason for children to stay in the classroom, and the reason for societies to have schools. As Postman says, "for schools to make sense, the young, the parents, and their teachers must have a god to serve, or even better, several gods. If they have none, school is pointless." (Postman, 1996, p. 4).
Recent education reforms exemplified by the No Child Left Behind Act (NCLB) have identified test scores and memorization of a standardized set of information as the god that schools should serve. As a result, school leaders, teachers, and the children are all forced to sacrifice themselves for this god. But this god is imposed by a few outsiders, the government, businesses, and the uninformed public. This god is not the god for the teachers and students. The imposition of an external purpose not shared by the children and their teachers, who are the souls of education, essentially drove intrinsic purpose of education out of schools.
There are, of course, reasons for this imposition, according to the reform advocates. One of the most loudly touted reasons is that schools are supposed to provide a good education for all children, which is absolutely an indisputable mission. However, defining good education as good test scores takes us farther and farther away from what real good education is. Richard Njus helps to reclaim the purpose, the god, of education. He reminds me of a wise counselor in ancient China who risked his life to change the mind of a king, who was apparently confused about purpose. This story was recorded in Zhan Guo Ce or the Records of the Warring States, a collection of essays about events and tales that took place during China's Warring States Period (475-221 BC). Here is my recount of the story.
The king of the state of Wei intends to attack its neighboring state of Zhao. Upon hearing the news, Ji Liang, counselor to the king rushes to see him. "Your Majesty, on my way here, I met a man on a chariot pointed to the north," Ji Liang tells the King, "and he told me that he was going to visit Chu."
"But Chu is in the south, why are you headed north?" I asked.
"Oh, no worry, my horses are very strong," he told me.
"But you should be headed south," I told him again.
"Not to worry, I have plenty of money," he was not concerned.
"But still you are headed the wrong direction," I pointed out yet again.
"I have hired a very skillful driver," was this man's reply.
"I worry, your majesty, that the better equipped this man was," Ji Liang says to the King, "the farther away he would be from his destination."  "You want to be a great king and win respect from all people," Ji Liang concludes, "You can certainly rely on our strong nation and excellent army to invade Zhao and expand our territory. But I am afraid the more you use force, the farther away you will be from your wishes."
Richard Njus tells us that schools are supposed to "touch hearts and change minds" rather than producing standardized test takers. More importantly, Richard practices what he believes. I have been fortunate to see him practice his beliefs on many occasions and my own son was a direct beneficiary of his practices and beliefs. He has led the development of more than one school. Actually they are not schools, they are communities of learners, or havens for young souls.
Richard's experience at Deerfield Elementary, the very subject of this book, is a tale that helps address the second crisis in American education. NCLB and similarly spirited reforms basically pronounced the total loss of faith in public school educators. The reform strategies basically suggest that we no long believe them. They have become complacent and lazy. They are coasting, holding low expectations of their students and themselves. Thus the government must come in, must hold them accountable, must make them compete, and must make their performances public. Their teaching must follow government censored standards, their work must be regulated, and their products must be evaluated with standardized testing.
Richard proves the reformers wrong. He and his colleagues are not complacent and lazy. They are creative, hardworking, and caring guardians of young hearts and minds. They are resolved to overcome difficulties and fight to preserve their gods—touching hearts and changing minds. They don't need externally imposed standards and accountability to motivate them because they are driven by an unstoppable internal desire to excel, to care, and to love.
Richard's tale is heroic, but with a taste of tragedy. It shows how difficult it can be to be innovative, to be true to your heart, and to keep the holy fire burning. The story of Deerfield Elementary, unfortunately serves as yet another example of Machiavelli's famous theory about change:
There is nothing more difficult to take in hand, more perilous to conduct, or more uncertain in its success, than to take the lead in the introduction of a new order of things. Because the innovator has for enemies all those who have done well under the old conditions, and lukewarm defenders in those who may do well under the new. (Machiavelli, 2006)
We need heroes. We need hope. We need faith. Education cannot be driven by fear of the past or the present, it must be inspired by hope for the future. And Richard Njus, in this book, gives that hope and faith. I thank him for having written this book.
Yong Zhao, Ph.D
University Distinguished Professor
Director, US-China Center for Research on Educational Excellence
Director, Center for Teaching and Technology
Executive Director, Confucius Institute
College of Education
Michigan State University
Machiavelli, N. (2006). The Prince Available from http://www.gutenberg.org/files/1232/1232-h/1232-h.htm
Postman, N. (1996). The End of Education: Refining the Value of School. New York: Vintage Books.
To learn more about Richard and his book, visit his website: http://richardnjus.com/