Test Scores vs. Entrepreneurship: PISA, TIMSS, and Confidence
6 June 2012
108,931
28 Comments
Education has been given the task to turn our children into globally competitive workforce. It is thus no surprise that results of international assessments such as the PISA and TIMSS are closely watched by policy makers and the media as an indication a nation's education quality and their future competitiveness. While I have serious reservations about making "global competitiveness" as an honorable purpose of education and the reduction of complex phenomenon such as education and human capacity into simplistic numbers, I am unable to resist the seduction of numbers and rankings. In doing research for my new book World Class Learners: Educating Creative and Entrepreneurial Students, I came across a set of data that appear to show something very interesting.
The Global Entrepreneurship Monitor (GEM) is annual assessment of entrepreneurial activities, aspirations, and attitudes of individuals in over 50 countries. Initiated in 1999, about the same time when PISA began, the GEM has become the world's largest entrepreneurship study. Thirty-nine countries that participated in the 2011 GEM also participated in the 2009 PISA and 23 out of the 54 countries are considered "innovation-driven" economies, which means more economically developed countries.
Comparing the two sets of data shows clearly that countries score high on the PISA do not have the level of entrepreneurship that match their stellar scores.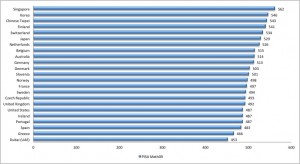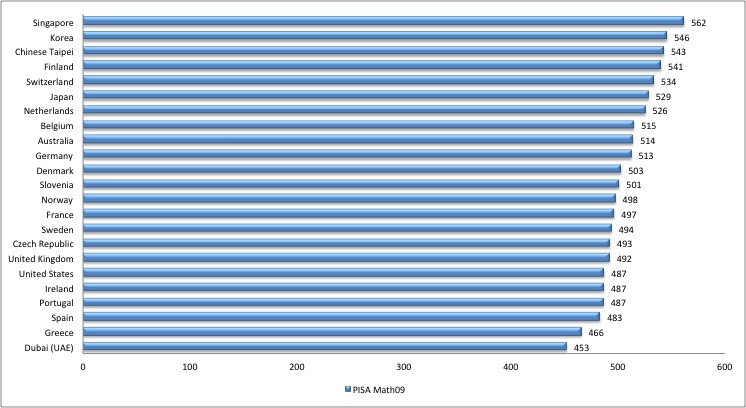 Ranking of 23 "Innovation-driven" economies by 2009 PISA math scores. Data source: http://www.pisa.oecd.org/dataoecd/54/12/46643496.pdf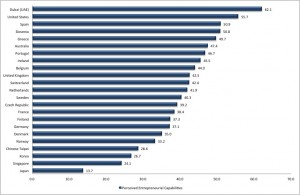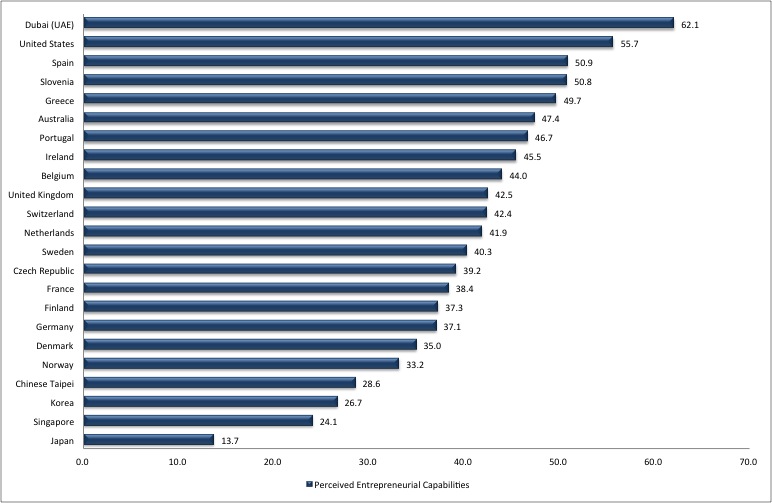 Ranking of 23 "Innovation-driven" economies by 2011 Perceived Entrepreneurial Capabilities (% of people confident in their ability for entrepreneurship). Data source: http://www.gemconsortium.org/docs/download/2201
Putting the two lists together reveals that countries with higher PISA scores have fewer people who are confident in their entrepreneurial capabilities. Out of the innovation-driven economies, Singapore, Korea, Taiwan, and Japan are among the best PISA performers but their scores on the measure of perceived capabilities or confidence in their ability to start a new business are the lowest.
For the more statistically inclined, the following scatterplot using raw scores instead of ranking shows the same pattern: countries with higher PISA scores have lower confidence in entrepreneurial capabilities: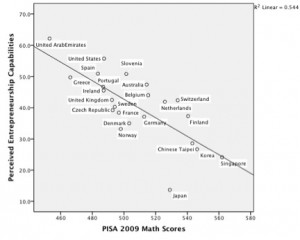 Interestingly, Tom Loveless found that there is a negative correlation between student confidence in their math abilities and their math scores on the TIMSS. The same pattern was found between enjoyment of math and math scores. Basically it seems that countries that produce better math scores have students who are less confident in their math ability. They also enjoy math less.

Source: Tom Loveless (2006): How Well Are American Students Learning
So what does this mean?