Latest Book: Who's Afraid of the Big Bad Dragon: Why China has the Best (and Worst) Education System in the World
2 November 2014
35,238
3 Comments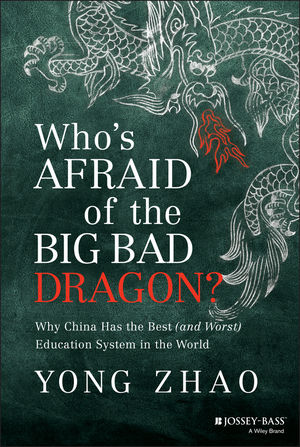 Reviews, Interviews, and News
Diane Ravitch (Nov. 20 2014). 
The Myth of Chinese Super Schools
. New York Review of Books.
Jay Mathews (Sept. 14 2014) Why admiring Chinese test scores might hurt U.S. schools, The Washington Post
Didi Kirsten Tatlow (Sept 14 2014) Q. and A.: Yong Zhao on Education and Authoritarianism in China, The New York Times
Ryan Allen (Oct. 7 2014). New Books in Education, Audio Interview with Yong Zhao.
Jennifer Berkshire (Oct. 6, 2014). Questioning Authoritarianism, an interview with Y. Zhao. EduShyster.
David Wilson (Oct 4 2014). Review of Who's Afraid of the Big Bad Dragon, South China Morning Post.
Introduction: Fatal Attraction—America's Suicidal Quest for Educational Excellence
1
1 Fooling China, Fooling the World: Illusions of Excellence 13
2 The Emperors' Game: A Perfect Machine for Homogenization 29
3 Governance without Governing: The Retreat of Authoritarianism and China's Economic Boom 49
4 Hesitant Learner: The Struggle of Halfway Westernization 71
5 Fooling the Emperor: The Truth about China's Capacity for Innovation 93
6 Hell to Heaven: The Making of the World's Best and Worst Education 119
7 The Witch That Cannot Be Killed: Educational Reforms and Setbacks 141
8 The Naked Emperor: Chinese Lessons for What Not to Do 165
Notes 191
Bibliography 217
Index 225